Integral Blinds
They're simply a blind that is enclosed within a sealed glazed unit. You can put them in a window, a door, a conservatory frame and they are available in a wide range of colours. Replacements for existing glazed units start at £180.
Free Brochure Download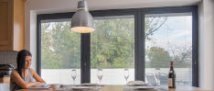 How are they operated?
This depends entirely on your preference and in some cases budget. So you know what's available, we'll list the options below.
As standard most integral blind units that we supply are operated with a magnet and pull cord system. The magnet is a removable component that sits on the face of the glass and the pull cord is used to open and close the blind - or tilt, too, in the venetian range. This is typically called the 'C System'.
Other alternative operating methods are available, however. The SV System operates with an in-built slider that allows you to open and close the blind (also tilt in venetian blinds) and is part of the unit itself.
The MB System is electronically operated via remote control and can be designed to offer the simultaneous operation of multi blinds either individually or synchronised to work together. You'll probably have seen similar on programmes such as grand designs. You can swap the remote for wall mounted push buttons are even a newly released app control system!
If you don't have a constant electrical supply we can tap into nearby, perhaps the W Swipe system is for you. These clever little unit are powered by rechargable batteries. The batteries can be easily replaced or recharged with a micro-USB connector (used on most portable powerbanks). You won't need an electrician to be involved with these, but they will cost you a bit more than the C System.
All of the blinds above are available in the wide colour range. Take a look at a snapshot of the colour range below. If you want to see the whole range, let us know!
White

Cream
Beige

Silver

Grey

Blue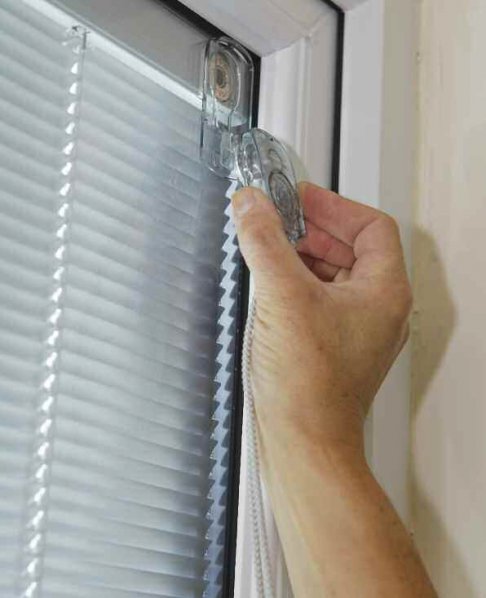 Venetian vs Pleated
Both options are available, but some folk aren't 100% sure which they want - or what the differences are. Let us break it down simply for you so you know what's what.
If you want privacy without the option to have the blinds down but tilted open to let a bit of light through, you want pleated blinds. These are one piece of fabric concertina folded into the blind.
If you want to be able to lift the blind up and down, as well as tilt it to have a bit of light in, you want venetian. These are individual slats joined with a fine cord making them work together.