Carlisle Futsal Club Partnership
Early in 2016, we began discussions with Carlisle Futsal Club (CFC) to explore the options of supporting their youth academy, made up of three age groups - U7's, U10's and U12's. After a short period of consultation, our Directors unanymously agreed that involvement with CFC was of interest.
Carlisle Futsal Chairman, Al Tindall, expressed his delight with the deal "In January we re-launched our academy programme and as part of our long term strategy to create Futsal players who can fulfil their potential we had to identify a sponsor that reflects quality in all that they do. I am delighted and grateful that World Group approached us, their reputation for excellence makes them the perfect partner. We can now take the next step in building our academy product by providing all of our players with training and match day kits. This creates a Club identity for them and adds to the professional, quality environment we aim to create every time they have a Futsal experience.'
Who are Carlisle Futsal Club?
Originally founded in 2007, the club was a little more than a group of friends brought together to compete in a regional county FA organised Futsal league. With Futsal in early development in England very few had heard of the game, never mind playing it! That didn't stop the team, who were able to achieve a second place finish in the inaugural, and subsequently the only, season. The league folded and as such the club decided to disband due to lack of competitive playing opportunity.
In 2012, the club relaunched with the aim of creating a Carlisle based team capable of competing at the highest level - The FA National Futsal League. Before the 2015/2016 season, the club applied to play in the league - albeit with a structural change to the league - the FA accepted and they were awarded a place in the FA Futsal Super League North. It didn't all go to plan, with a player pool of limited futsal experience, Chairman Al Tindall made the difficult decision to resign from the league, citing securing the long term interests of the club was important.
So, where are CFC today?
Back to basics. CFC are busy developing an elite academy of youngsters to give them access to a player pool with seasons of training and crucial Futsal game experience. With three age groups U7's, U10's and U12's, there are fundamentals in place for Carlisle Futsal to again challenge in the top flight, with a wealth of home-grown talent to call upon.
What is Futsal?
You're not the first to have asked, you probably won't be the last. In brief, Futsal is the FIFA and UEFA recognised 5-a-side football format. Played inside on a court' with a smaller ball, the sport encourages ball mastery, close control and player skill. This is done by using a ball that has reduced bounce.
The game is played with great pace through quick and controlled 'pass and move' combinations. Some of the world's greatest professional footballers have a Futsal - formerly 'Futebol de Salao' - background. Spain and Brazil have found great success with the skill base and currently occupy the top two Futsal World Ranking positions.
Futsal as a stand alone brand is strong enough to boast local, national and world wide competitions whilst also an ideal developmental territory to allow England as a country to again dominate the International Football tournaments.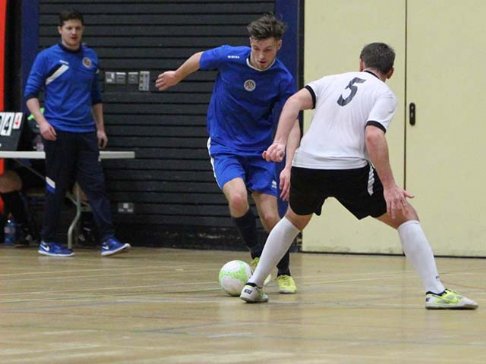 Want to know more?
To find out more about the CFC set up, or to get involved, take a look at their website.
We a proud to be associate sponsors for the next two years, giving Carlisle Futsal Club access to ever crucial funds to allow player growth and development, but also allowing us as a Company to get involved with a sport that is a key to developing our national game.
Matthew Spooner, World Group Director, said "Futsal is a sport I've always had an interest in. There's no surprise that we have international competition and an influx of continental players in our Premier League when you see the skill set and grounding that Futsal offers.
This partnership now allows us to help Al and his team develop the future stars of the game and give them financial backing, marketing support and commercial knowledge to allow them to progress through the leagues and become a well established Futsal Academy".