Attic & Loft Insulation
Almost a quarter of heat is lost through the roof space in an uninsulated or incorrectly insulated home. Imagine the savings in your heating (and cardigan) bills if you had a correctly insulated home?
Insulating your attic, loft or flat roof is an easy but efficient way to minimise heat loss in your home. In turn, this reduces your heating bills and ultimately, makes your home warmer. Loft insulation is effective for around 40 years and it should more than pay for itself in the first 6-8 years.
Top Tip!
Using extra insulation may result in you needing to protect your water tank and pipes!
Choosing loft insulation
It's important to choose the correct insulation for your property, and your needs for the attic or loft space.
Attic & Loft Storage Space
If you're planning on using the loft space for extra storage, most people will lay floorboards over the joists. Be aware, if you or your contractor only insulate between the joists and board directly over, the insulation will not be thick enough and will not be efficient as it could be. To get enough insulation, you could consider using one of our Insulated Storage Attic Solutions.
We recommend using 270mm (height) of Mineral Wool Insulation as this will achieve approx 0.16 u value (which is good!). Some people use an insulated board. We would recommend the quilt as it is cheaper and more versatile.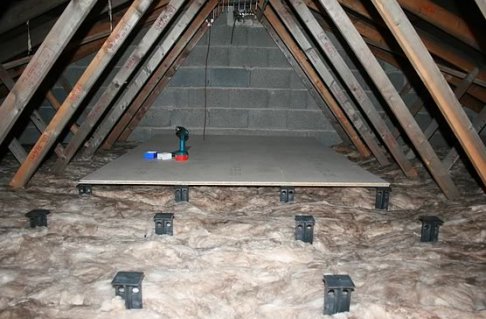 Roof Space Rooms
If you're wanting to use your loft space as a habitable room or living space, the most effective way to insulate may be to insulate the roof rather than the loft floor. This is commonly done by fixing rigid insulation boards between the roof rafters/beams. Boards need to be cut to fit snugly, it is also common that these are then plasterboarded over for better appearance. You could use an insulated plasterboard to further enhance the efficiency.
Walls in the loft/attic room would also be insulated, again using rigid boards or insulated plasterboards. Ventilation must always be maintained to the rafters so that air can circulate to avoid damp, condensation and nasty smells!
Damp Lofts
Insulation stops heat escaping as easily from living spaces, however, it will make your loft space cooler as there is reduced heat rising up to it. This could create damp, or worsen existing damp or condensation problems. If you are heavily increasing, or newly introducing, insulation please keep in mind your ventilation - you may need to introduce more.
Give us a call for professional advice before you start to look at loft insulation as a DIY project to see if you can fix any damp problems first.
Inaccessible Loft Spaces
If you struggle to access, or cannot access, your loft space, give us a call. It is still possible for professionals to use special equipment that can blow loose, fire-retardant insulation into the loft. This material is generally a cellulose fibre or mineral wool product. Time wise, you're looking at a few hours.
Flat Roofs
Flat roofs are best insulated from above. A rigid insulation board can be used but we wouldn't recommend doing this yourself. If you attempt and get it wrong, you can create condensation problems, or even worse, major leaks.
The savings possible are similar to that of loft insulation.
Loft Insulation Gallery