Garden Fencing
At World Group we can supply and install a wide range of garden fencing and garden dividers. With over 30 years experience in property improvement services we have the guidance and knowledge to help you make a correctly informed purchase.
Today's gardens aren't just about growing flowers or fresh vegetables, not that there's anything wrong with either. Nowadays, gardens are being used as a decorative feature to your home, enhanced living areas for dining and leisure and to provide a useable play area for children of all ages.
With a wide range spanning from concrete fencing, timber picket and trellis fencing through to more decorative bamboo screening and composite fencing, we can add style, elegance and individuality into your outdoor living space.
Features and Benefits
Low maintenance - no need to paint year after year
Use with existing fence poles
Looks and feels like wood
20 Year Guarantee
Tough and hard-wearing - a greater tensile strength than concrete posts
Easy installation - saves time and money
UK manufactured
Environmentally friendly - made from 75% recycled materials
Easy to cut
Lightweight
Accepts screw fixings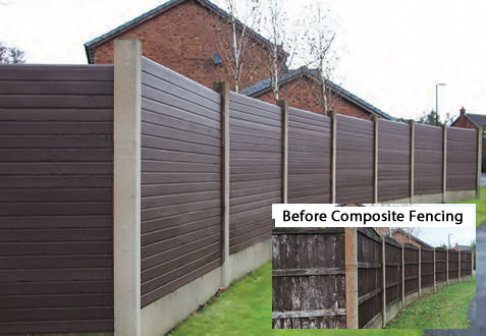 Fencing Finishes and Accessories
3 Standard colour options:
Walnut
Natural
Graphite
Plus paint facility to create bespoke colours
Decorative post caps for stylish finish
Anti theft clip to protect the fence from removal
Shaped tops available for alternate styles
'Eco gate' access gates made to measure
Posts available in 1.8m, 2.4m and 2.7m heights
Fence panels available in 1.8m and 2.4m widths all at 300mm high - simply stack to achieve required height.