Victorian Conservatories
The Victorian conservatory is the one of the most popular styles of conservatory available, this style springs most readily to mind when people think of conservatories. Whether you've got a period property or a contemporary new build, here at World Group, our team of designers, manufacturers and installers will work with you to ensure real harmony of design that suits your home exactly.
The Victorian conservatory style typically comprises a bay style front, a steeply pitched roof and stunning ridge details. Available in PVC and Aluminium, a World Group conservatory will stand the test of time. Most people will recognise the front of a Victorian conservatory having three frames at wider angles or five frames with shallower angles.
All you have to do now is contact us and we'll do the rest - we'll send one of our sales team and surveyors who will conduct a full survey and offer you all the expert guidance you need to choose the most suitable conservatory design for your home.
Choose Features that will Benefit you Most
A great way of adding extra style or character to your Victorian conservatory is to use leaded or georgian bar glass designs to create a unique feel or to match in with exisiting windows in the property. This helps tie in your modern, warm and secure double/triple glazed conservatory with the traditional Victorian style conservatories from years gone by.
Like the rest of our conservatory range, World Group Victorian conservatories can be supplied in the complete range of colours and styling. All the details are your choice - right down to the finishing touches. Every conservatory is unique, tailored to suit your home, your style and your lifestyle. Finishing touches like underfloor heating, electric blinds and modern lighting can really set your conservatory aside from the rest.
As a flexible living space, the conservatory can accommodate a wide range of frames and door styles. This means that there are a number of key decisions to be made when choosing which side frames to use. The World Group range of windows comes with a highly energy efficient five-chambered design as standard - but the rest is up to you. For example, would you prefer a classic casement design or a more contemporary tilt 'n' turn style? How about the doors? Would you go for French doors or the showcase bi-folding door that really opens the room up?
Technical Information
Maximum sizes vary depending on style.
Incorporates 28mm double glazing or unique 44mm triple glazing options.
PVC-u system with colour matched extras.
70mm five chamber design.
Low line gasket system.
J-type single leg glazing bead for easy installation.
Manufactured from recycled materials - including the RCM reinforcing option.
Colour Options

White

Vanilla

Rosewood

Golden Oak

Irish Oak

Chatwell Green

Beck Brown

Gale Grey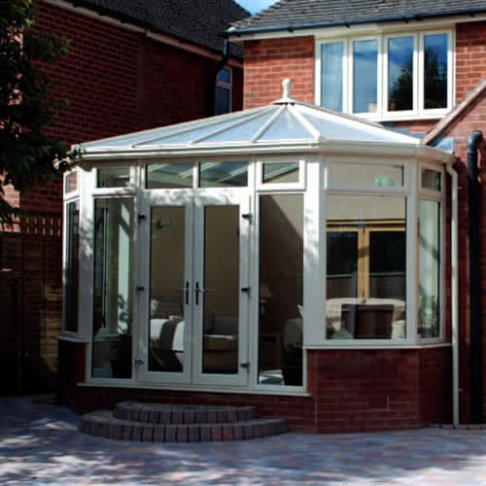 Why choose World Group Victorian conservatories?
Unrivalled quality from the largest extrusion company in the UK.
Long-life performance, with profile guaranteed for up to 10 years.
Extensive choice of colours and finishes to suit any building.
Unique colour-match promise across our entire range of products.
Systems specifically designed for fast, easy fabrication and fitting.
Nationwide coverage and full support network.
Quality-assured products, fully accredited by the British Board of Agrément (BBA) and British Standards Institute (BSI).
Products designed for security and crime prevention, with approval from the Association of Chief Police Officers' Secured by Design initiative.