Glass Conservatory Roof
Transform your conservatory into a comfortable, all year round living space for your home, that is fully compliant with current building regulations.
World Group are proud to be recognised and recommended installers of the Ultraframe Roof systems. We have access to their vast range of roof options, including decorative finishing touches to give your home the WOW factor.
To arrange your free, no obligation home visit, follow the link below or call us on 01228 599777 or 01387 249777.
Glass Roof Options
'The only way to get a conservatory you'll use all year is with a solid roof' is a phrase we hear regularly from other installers. We've used it too, BUT then we started working with Ultraframe. We discovered their HUGE range of glass conservatory roofs that offer you a truly 365 day usable room.
This range has standard glass roofs, flat roof lanterns and flat sky lights that will flood your room with natural light and look stunning. Decorative finishes, like an internal pelmet, can add to the look of your room and help you add special features like wireless speakers and perimeter lighting!
All roof ranges are available in a wide range of colours, including some that are foiled to match the foils used on coloured windows and doors, so that you can achieve a seemless look from your windows to your conservatory and even to your garage door!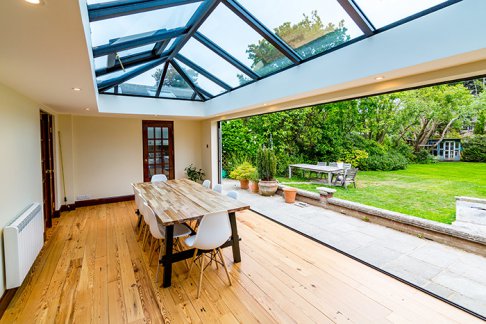 Glass Roof FAQ's
Do glass roofs cost more than solid? No, a glass roof is more cost effective than a solid roof, and is usually quicker to install
Is there a choice of glass? Yes, there's a range of glass that has different UV ratings, solar reflection ratings and anti-glare coloured tints too.
Does it not get too hot in summer? A glass roof will still get warmer in summer than a solid roof, but, the self controlled vents throughout the roof make it usable 365 days a year. They're nowhere near as stiffling as the polycarbonate roof sheets!
Can I use spot lights? Of course you can. The internal pelmet is ideal for when you want perimeter spotlighting and you can also add bluetooth/wireless speakers into these!