Orangeries from World Group
Modern day orangeries are significantly further developed than the original designs of yesteryear and an orangery design by World Group will be one of the most beautiful and tasteful improvements you could make to any home. Orangeries are elegant, light and airy home extensions, with large "lantern" roofs and tall windows that are usable all year round. They offer a unique and luxurious style to any home, no matter of the age, style or design.
All Orangeries are built with a perimiter flat roof and central structurally suspended Glass Lantern. The lantern itself can vary in size which is all down to customer preference and taste. The important thing to remember is, the smaller the lantern, the bigger the internal soffit.
Technical Information: Orangeries
Maximum sizes vary depending on style.
Incorporates 28mm double glazing or unique 44mm triple glazing options.
PVC-u system with colour matched extras.
70mm five chamber design.
Low line gasket system.
J-type single leg glazing bead for easy installation.
Manufactured from recycled materials - including the RCM reinforcing option.
Colour Options
Like the rest of our conservatory range, World Group Orangeries can be supplied in the complete range of colours and styling. All the details are your choice - right down to the finishing touches. As mentioned above, every Orangery is unique, tailored to suit your home, your style and your lifestyle.

White

Vanilla

Rosewood

Oak

Irish Oak

Beck Brown

Chartwell Green

Gale Grey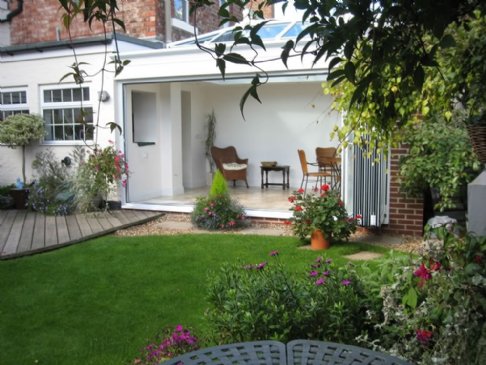 Orangeries are different to Conservatories
These grand orangeries differ from conservatories in that the walls of the orangery are partly constructed from stone or brick as opposed to whole glass sheets, or PVC panelling to the bottom of the frames. Obviously, we do still see some conservatories that incorporate dwarf walls, however to deliver enhanced thermal efficiency, orangeries typically incorporate considerably more brick or stone.
No matter what the style or choice of materials are, our Orangeries are an elegant, stylish and character enhancing addition to your home.
Because of their versatility and the fact that they can be bespoke to your home, World Group Orangeries are the most unique product in our Conservatory range. The different designs available mean that if you're looking for a traditional square based Orangery, a stylish L-Shaped Orangery or a complete bespoke design that you're children have drawn, we're able to offer you an installation that will satisfy your requirements and stand out from the crowd.
As a flexible living space, the Orangery can accommodate a wide range of frames and door styles. This means that there are a number of key decisions to be made when choosing which side frames to use. The World Group range of windows comes with a highly energy efficient five-chambered design as standard - but the rest is up to you. For example, would you prefer a classic casement design or a more contemporary tilt 'n' turn style? How about the doors? Would you go for french doors or the showcase bi-folding door that really opens the room up?
All you have to do now is contact us and we'll do the rest - we'll send one of our sales team and surveyors who will conduct a full survey and offer you all the expert guidance you need to choose the most suited Orangery for your home.

FAQ
How much
is an Orangery?
As each World Group orangery is unique, incorporating bespoke design features to meet your needs exactly, it's hard to give a figure. We're confident however that for these luxury items we're able to provide extremely competitive like for like prices; please contact us online or call 01228 599777 to discuss your exact needs.
FAQ
What types of flooring do you offer for Orangeries?
We offer an extensive range of flooring options for your new orangery - ranging from ceramic floor tiles, to laminate flooring, wooden & solid timber floors. Here at World Group we'll work with you to ensure you get a floor finish that is both practical for your needs and is within the budgetary constraints set by you.
FAQ
Do we need Planning Permission for a new orangery?
Under planning regulations that came into effect in October 2008 adding a orangery is usually considered to be permitted development. In most cases you will not require planning permission unless you are adding a orangery to a house that has already been extended. Our sales team will be delighted to advise.
FAQ
Do you have a recommend and reward scheme?
Yes we do! All valued clients can refer and earn rewards using our cleverly named Refer and Earn scheme! If you would like to join the refer and earn scheme, please get in touch; contact us online, call us on 01228 59977 or simply ask the installers or sales person who worked with you on the project!