Sliding Patio Doors
The benefits of installing World Group Sliding Doors are clear: the fact that there is no opening door allows the doors to open with no space required! Fill your room with air and light and gain a great access point, too.
Lightweight to operate and easy to maintan, modern PVC Sliding Patio Doors are an altogether different proposition from the clunky, stiff, heavy doors from 10-15 years ago. It's a common misconception that Sliding doors are a vulnerable point in the home. World Group PVC-U Sliding doors are as strong and stable as our other door types, offering complete security without compromising on elegance and style. The concealed locking mechanism means that it is protected from tampering, but also from damage through the elements. This extra protection means the lock is able to last a little bit longer. The sliding track mechanism also offers minimal margin for error - the door in essence is a very simple product, and as with all things, the less to go wrong, the better.
Why choose World Group Sliding Doors?
Unrivalled quality from the largest extrusion company in the UK.
Long-life performance, with profile guaranteed for up to 10 years.
Extensive choice of colours and finishes to suit any building.
Unique colour-match promise across our entire range of products.
Systems specifically designed for fast, easy fabrication and fitting.
Quality-assured products, fully accredited by the British Board of Agrément (BBA) and British Standards Institute (BSI)
Products designed for security and crime prevention
Colour Options

White

Rosewood

Golden Oak

Irish Oak

Vanilla

Gale Grey

Chartwell Green

Beck Brown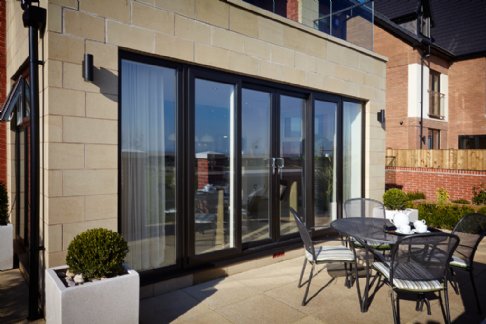 Technical Information
Maximum sizes of 4000mm x 2500mm.
Slim stepped 86mm outer frame reduces plaster cutback and enhances visual appearance.
PVC-u system with colour matched extras.
Internal sliding panels for added security.
Three chamber profile design.
A range of opening schemes available.
6 point locking mechanism for added security.
Concealed fixings for a more elegant installation finish.
Gallery: Sliding Patio Doors