Conservatory Installation in Carlisle
Loads of people dream about having a conservatory to relax in and enjoy their evening with loved ones and friends. Mr & Mrs G approached us for exactly that. We were one of four companie submitting prices, but we are very pleased to have secured the job.
Take a look below at how it went...
Warm Roof Information

Warm Roof Brochure
(2.93MB)
What was the brief?
We were fortunate that Mrs G had her dream conservatory in mind, all planned out and ready to relay the info to us. Symmetry was a strong theme throughout the design stage, Mrs G loves things to look symmetrical so we carefully designed the conservatory to line through with the existing window heights and also to achieve equal splits on the side frames. We used a lightweight, timber core, warm roof topped with excellent synthetic lightweight tiles in Pewter Grey. Colin, our head surveyor, found a great brick match too.
What happened next?
Mr G is no stranger to the building industry, working within the industry for over 30 years. He was keen to leave us with a blank canvas ready to start, so in preparation, he lifted the paving flags in the area the conservatory was going to be built.
Phil and Dem were first on site and they got straight to work digging out and pouring the foundations, they also provided the drainage required for the new downspout. Preparing the base took just under a week. Colin and Mark were next up doing the blocks and brickwork, following this with the installation of the PVC side frames. This took us just over three days.
Alan and Alex joined Colin and Mark on site for two days to install the roof structure and make it water tight ahead of the weekend. The following week, Alan and Alex took control and plastered the internal walls and ceiling. Dave was on hand to install the sockets, electric radiator and the lights. After a few coats of paint from Greg and the flooring installed by Alan, we were ready for a good tidy up inside and outside, removing all tools and waste. We were then ready to hand the keys over to a very excited Mr & Mrs G!
All in all, we were on site for just over three weeks from start to finish.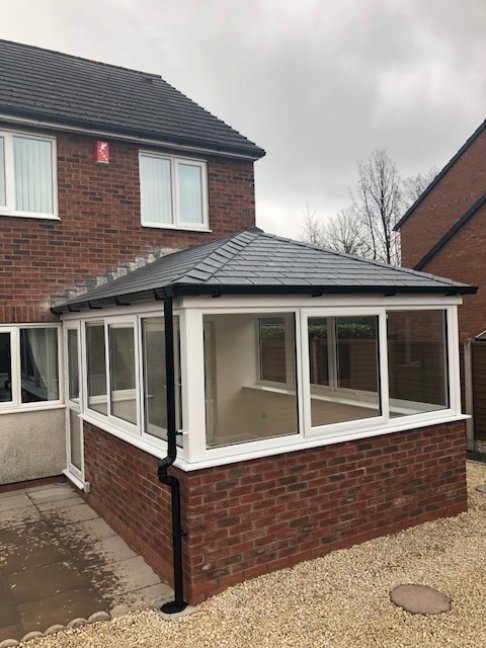 Conservatory FAQ's
Do I need planning permission? Not always. Speak to us for guidance specific to your situation.
How much does a conservatory cost? This depends entirely on size, style and specification. We have installed conservatories from £6,250 through to £45,000! Speak to us and we can give you some budget figures after a brief chat.
How long will it take? This depends on size and specification. On average, 3 weeks is a good estimate. Some will be longer if they have more brick or stone, some will be faster if they're just PVC top to bottom.