Casement Windows
Energy efficiency, advanced security and value for money as standard. Our advanced PVC windows boast multi chamber profile, full thermal reinforcing and energy coated glass.
Our Casement Windows, in both double and triple glazing, offers you easy maintenance and practicality. The standard double glazed window is designed to easily accommodate a wider 44mm unit, turning your double glazed windows into super warm triple glazing. Our double glazed windows are good - but our triple glazing is better. Read about Double vs Triple Glazing here.
Most local manufacturers offer 1.4/1.3 u-value double glazing but we offer 1.2 u-value double glazing and 0.8 u-value triple glazing, reducing heat loss and keeping the warmth inside.
Available in a wide range of colours, offering a wood grained effect for extra style, we're sure to have an option that compliments your house. Roll your mouse over the colour swatches below, and watch the window change colour!
Find out about the new Flush Sash Casement... coming soon!
Why choose World Group Casement Windows?
We are a local manufacture, offering quality, affordability but most importantly value for money
We are family owned, with 7 direct family members in our experienced team
We only employ highly skilled manufacturers
We have an extensive range of styles, colours and designs - don't settle for someone else's standard product
We have four dedicated product advisors
We fully employ time served installers and don't rely on any subcontractors meaning we can offer an exceptional installation standard
We have a dedicated aftercare team
We only manufacture to a standard we'd use in our own homes - we achieve 1.2 and 0.8 u-value for double and triple glazed windows
We manufacture low maintenance frames, and we'll leave you with easy to follow maintenance instructions
We recycle your old frames and use them in our window internal reinforcing
We safely dispose of your glass units
We offer high security as standard
We use energy coated glass as standard
We offer a fully colour suited hardware range so everything matches
We offer a 10 year guarantee on PVC and Glass
We've got a range of window blinds that perfectly compliment your new or existing windows and doors. Take a look here!
A Few Popular Colour Options

White

Cream

Rosewood

Golden Oak

Irish Oak

Black Brown

Chartwell Green

Anthracite Grey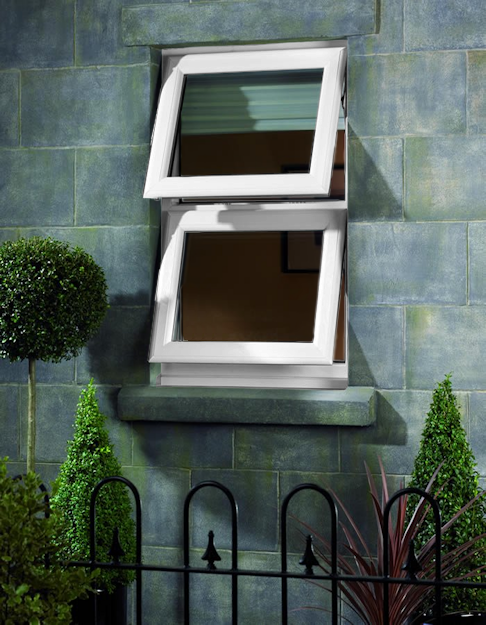 Technical Information
Quality-assured products, accredited by the British Board of Agrément (BBA) and British Standards Institute (BSI).
Products designed for security and crime prevention
Incorporates 28mm double glazing or unique 44mm triple glazing options.
Energy efficient 70mm five chamber profile.
Manufactured from recycled materials - including the RCM reinforcing option.
Long-life performance, with profile and glass guaranteed for 10 years.