Aluminium Roof Lanterns
Elegant architectural design that you can really look up to. Roof lanterns and roof lights allow the natural light to flood into your home and look sleek at the same time.
More on Aluminium Roof Lanterns
Whether you're designing a new build development, renovating or extending an existing property or building your forever home, a roof lantern, is the perfect way to significantly lift ceiling heights, increase natural light in living areas and create airy and stylish interior spaces.
The aluminium rooflight we use has been developed by our suppliers, in-house, to meet the needs of architects, contractors and installers with a stylish, easy to fit system that is available immediately but, more importantly, has been designed to work for the home owner offering great thermal values and thin sight lights.
The thermally broken 38mm aluminium rafters maximise the light coming through whilst keeping your home lovely and warm. There's no unsightly plastic caps, fascias or trims that can fall off or crack and they're available in any RAL colour - with 4 kept in stock!
More on Aluminium Roof Lights
Similar to our aluminium roof lanterns, our aluminium roof lights offer increased natural light in living areas and create the same airy and stylish interior.
The main difference is that aluminium roof lights are usually all the same pitch and made up of one glass section secured to a frame. Aluminium roof lanterns are usually 'vaulted' or 'hipped'. Roof lights can be used on an angle if you're building a (or installing into an existing) pitched roof, but they can also be used as part of a flat roof construction.
Their versitilaty doesn't end there, they're also available in any RAL colour and some are stock items available in a matter of days.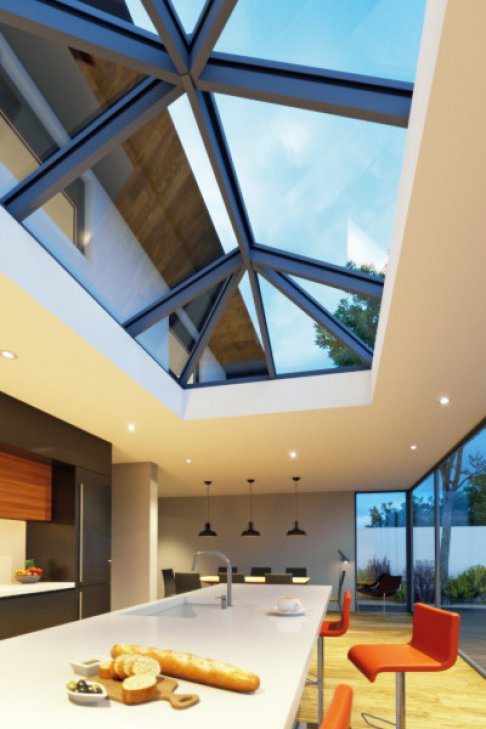 Roof Lantern and Roof Light FAQ's
Do roof lanterns look good? That's all down to personal preference. They are becoming increasingly popular and are quite a contemporary product - ideal in your new kitchen extension.
Are they expensive? If you compare a roof light or lantern with a velux or other branded equivalent product they come in competitively priced. it all depends on the size, spec and quantity used. Speak to us for a more accurate guide for your project, we'll chat through the options so you make a fully informed decision.