Flush Sash PVC Window
We've recently added a new star performer to our range of high security, energy efficient and affordable PVC products. Flush Sash windows combine the smooth, traditional sight lines of timber windows, with the thermal and security benefits of PVC.
Available in a wide range of colours, our Flush Sash products will add real character to your home whilst maintaining the high level security and exceptional thermal performance and capability that we've strived to achieve in PVC.
TOP TIP: Flush Sash looks especially lovely in the wood effect colour ranges - Irish Oak, Cream, White Foil & AnTeak.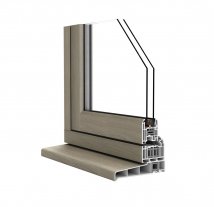 Flush Sash Windows
A highly practical flush casement window that offers the best of both worlds – period features and modern standards of insulation and security.
Traditional, outwards-opening styling is updated with modern, durable, easy-to-maintain materials, secure and reliable hardware and thermal performance that keep your home warm and reduce bills.
The Optima Flush Casement Window based upon the elegance and style of traditional timber windows successfully combines modern PVC compression seals with the sleek, flush external face appearance and ultimately provides a warm, high security window perfect for your home.
An industry leading triple seal, previously unseen on Flush Casement Windows, offers exceptional weather protection and allows this flush casement window to be used in some of the most rural locations that we're lucky to be near in Cumbria and South West Scotland.
Modern Windows, Traditional Features
We'll admit that we've copied the appearance of the original, timber flush casements, but the thermal performance and weather protection of our PVC-U frames is up to 21st Century standards. There's a simple chamfered shape to the exterior and your choice of shape for the interior to suit your home's décor and your personal style.
The Flush Casement suite includes all the extras required to recreate period details, and because every component has been purpose made, the proportions are a perfect match. We've selected period colours and sourced matching hardware including dummy peg stays and monkey-tail handles.
Flexible, Practical and Beautifully Crafted
The simple lines are ideal for older, heritage properties, but these windows also cut a dash with more contemporary and minimalist architectural styles.
The design classic with its outwards opening panes will never go out of style. From a simple arrangement with a single opener to a beautiful bay, flush casement windows suit so many homes and building types. And here's the real beauty – our Flush casements are adaptable. You choose the layout to suit your home: the size and position of the opening lights, the location of handles and all the finishing touches.