Window World
WORLD GROUP is proud to incorporate the nationally recognised company formerly called WINDOW WORLD. The company roots trace back to 1981, when Cliff Spooner started the family run business in the Cumbrian Eden Valley offering general joinery and building services based on a philosophy of providing quality, affordable products and honest reliable service. Many happy customers were proud to repeatedly use WINDOW WORLD for their window and door replacements.
In 1984 WINDOW WORLD was formed to specialise in the installation of high quality PVC-u double glazed windows, double glazed doors and roofline products. Over the years we have worked hard to gain a reputation of providing high quality, reliable installations, regardless of the size and scope of the project.
Manufacturing for WINDOW WORLD commenced from premises at Rome Street, Carlisle in January 1985. Increased customer demands required a move into larger premises at Lancaster Street, Carlisle in 1987.
The current WORLD GROUP structure was introduced in 1998 to offer an increased range of property improvement and homecare products alongside our existing PVC WINDOW WORLD products. A range that now includes kitchens, bathrooms, landscaping and a HomeCare service.
In recent years over £1.5 million has been invested in automation, improvements and moving the business to our current Carlisle head office at Kingdom House, Durranhill, with the last few years being a story of development and market growth for our extended range of property improvements and home care solutions.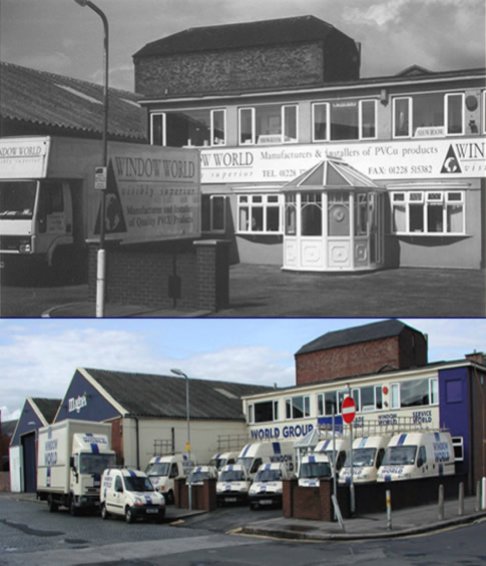 Through all these changes, World Group still believe that customer satisfaction is key to our continued success. We are committed to providing excellent customer service that matches the quality of our products and ensures all customers enjoy a caring, polite, friendly professional and efficient experience when dealing with their property improvement needs.
We aim to make your products as secure, energy efficient and environmentally friendly as we can, whilst offering maximum value in terms of quality, price and customer service.
The product quality and management system of our manufacturing, installations and aftercare services conform to British Standards to ensure you can trust in the quality of our products and services.
The future family involvement in the business looks secured with no less than six, third generation family members currently working in the World Group team, with another 80% of the team holding key roles during the transition from WINDOW WORLD into WORLD GROUP
For more information browse this site, contact our Carlisle team on 01228 599777, the Dumfries branch on 01387 249777 or e-mail us at mail@world-group.co.uk.