French Windows
World Group French windows - also known as 'flying mullion' windows - function in the same way as French doors. Each unit comprises a pair of PVC-U French windows that open outwards, offering an unspoilt view that's not broken by a central vertical frame member - or otherwise known as a mullion.
The result is a large opening space that offers uninterrupted vistas and improved air flow - ideal for the summer months when you want to bring the great outdoors into your home. Beautifully crafted, World Group French windows also have a symmetrical aesthetic appeal. An additional safety feature is that they can provide an alternative escape route from inside to outside - some people improvise and use it as a handy furniture entrance!
French windows are perfect for householders who want to fill a room with light and warmth in the summer months without losing any of the windows, energy efficiency in terms of thermal performance.
Why choose World Group French Casement Windows?
Leading manufacturer, delivering Maximum Value in style, quality & price
Styles to suit every home including bespoked window designs
High-security systems - the latest secure frame designs for complete peace of mind
Ultimate energy-efficiency - our BFRC Window Energy Rating (WER) A+12 rated window is te most thermally efficient double-glazed PVC-U window available
Local and reliable assured service.
Low line gasket system.
Low Maintenance
Cleaning frames with soapy water occasionally and maybe lubricating hinges, handles and other hardware is usually all that is necessary.
Whatever the colour, tests ensure that it doesn't deteriorate over time. Frames don't rot, rust, corrode, warp or split and have been proven to last upwards of 35 years.
PVC windows are generally the most cost-effective option due to them being long lasting, low maintenance and low cost.*
PVC-U windows are easily recyclable.
Domestic and commercial PVC-U frames score A and A+ ratings respectively in the BR Green Guide
Long-life performance, with profile guaranteed for up to 10 years
Extensive choice of colours and finishes to suit any building
Colour Options

White

Vanilla

Rosewood

Golden Oak

Irish Oak

Beck Brown

Chartwell Green

Gale Grey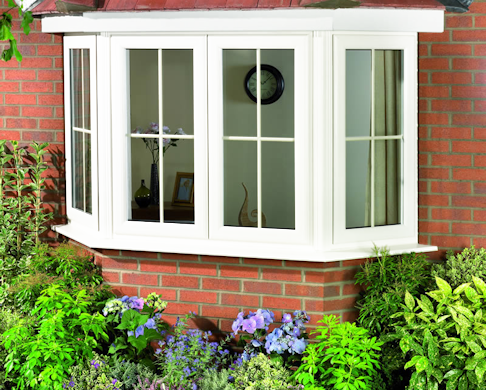 Technical Information
All frames are CE Mark compliant, your assurance they are manufactured in line with EU Construction Products Regulations.
Quality-assured products, accredited by the British Board of Agrément (BBA) and British Standards Institute (BSI).
Products designed for high security security
Incorporates 28mm double glazing or unique 44mm triple glazing options.
Energy efficient 70mm five chamber profile.
Low line gasket system.
Manufactured from recycled materials - including the RCM reinforcing option.
PVC-U windows are easily recyclable.Frames will burn only when subjected to an intense fire source. PVC-U is classified as self-extinguishing
Long-life performance, with profile guaranteed for up to 10 years.
Systems specifically designed for fast, easy fabrication and fitting