Double Glazing in Dumfries
Thousands of people a week get replacement double glazing installed into their homes across the UK. WORLD GROUP offer maximum value for money on their range of high performance double glazing.
What is Double Glazing?
Double glazing is as simple as it sounds. Two bits of glass, one with a special coating for enhanced thermal performance, bonded with a warm edge spacer bar, filled with argon gas.

Double glazed windows are a standard product in the property improvement industry, however there are alternatives. Some people opt for a Triple Glazed product or sometimes install Secondary Glazing when they're looking at improving the energy efficiency and thermal performance of their property.

TOP TIP: Be careful, not all window suppliers and manufacturers are as honest as us, some get away with using substandard products and don't always have the customer at the forefront of their thoughts.
How much does Double Glazing cost?
It really depends on the style, amount and size of the windows and doors. A supply only double glazed pvc door could be anywhere from £350 including VAT, supply only, to £1000 including VAT, supply only. The design, style of and furniture on the door in this example would change the cost.

A small bathroom window could cost less than £100, supply only, or a large bay window could cost over £1000. It really does depend on your specific requirements. One thing we can promise you is that all of our double glazed windows and double glazed doors offer maximum value for money.

If you're interested in finding out more about double glazing or getting a double glazing quotation, give us a call on 01228 599777, or use the online contact form and we'll get back to you.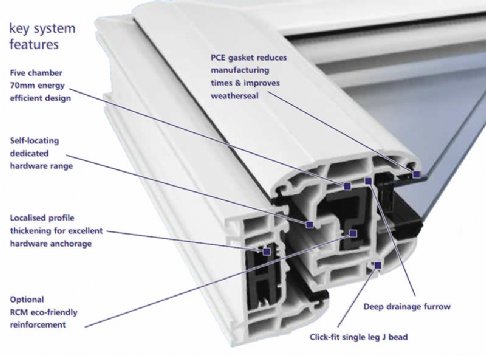 Double Glazing Dumfries
We can manufacture, supply and install a wide range of Double Glazing in Dumfries, in a wide range of colours and styles.
From our showroom in Maxwelltown Industrial Estate, we service the whole Dumfries and Galloway area and can arrange home visits to discuss your replacement windows and doors.
We have installed thousands of replacement windows in Dumfries and we have the skills, knowledge and expertise to make sure you get the right windows, doors and double glazing for your property.
Find our more about the all new Triple Glazing
Where can I buy Double Glazed Windows, Door and Conservatories in Dumfries?
Right here at WORLD GROUP Dumfries. We're recognised as a market leader for Windows, Doors and other PVC products in Dumfries.
We're able to offer you a full range of high performance double glazed casement windows, double glazed tilt and turn windows, double glazed sliding sash windows, double glazed bay windows...the list goes on.

We can also offer double glazed pvc doors as well as double glazed composite doors. Wether you're after a supply only order and would like double glazing installation too, we have the resources to help you make a well informed purchase.