World Group Security
Over 650,000 domestic burglaries have been reported each year since 2013.
At World Group, protecting your property against unwanted intruders is a primary concern, the experience gained working to the highest standards and specifications since our etablishment in 1981 have helped us fully understand what it takes to safeguard your property against forced entry.
Windows and Doors are the first line of defence in protecting your home from burglary. All World Group products are manufactured and fitted with high security multipoint locking mechanisms. They are also designed with clever features that thwart even the most eperienced and determined burglar!
The most advanced security hardware available in the industry is standard on all frames, including twin cam locking gears, shoot bolts, hook bolts, locking handles, heavy-duty security hinges and hinge guards.
Our products have been tested by UKAS accredited test houses to surpass BS7950 and PAS 14 & PAS 15 the stringent British Standards Institutions (BSI) tests for security for Windows and Doors. Our Window and Door systems have also achieved the requirements of the Secured by Design scheme. Secured by Design is the official UK Police flagship initiative that supports and promotes the principles of crime prevention through secure design and engineering
What Can I Do to Improve Security?
Lock it! It may sound obvious, but locking your windows and doors every time you leave the house, even if you're just over the road, is the first point of action.
Are you cylinders safe? Make sure your doors use 'Anti-Snap' or 'Anti-Bump' cylinders. This means any unwanted guests can't gain access by snapping the locking barrel.
Visibility, or lack thereof, can deter or encourage burglars. Make sure your valuables are hidden out of sight and make sure your back/side door is fitted with strong, secure locking mechanisms. Just because it's out of sight, doesn't mean it's safe - it usually means the opposite!
Hide your keys! Don't leave keys near the letterbox or immediate surrounding area of doors/windows. Burglars could use a hook or rod to get through an opening and retrieve keys.
Fit a Door Chain to front and back doors to allow you a small opening to maintain security when first greeting guests.
Fit a Spy Hole to your door to give you a safe viewing point to see who's knocking.
Keep lights on when you're away - to save energy, we suggest using a timer plug which you can pick up from most supermarkets. Any lighting or sound, for example a radio playing, can act as a deterrent to intruders.
Make it harder for anyone to access your home by leaving ladders, scaffolding, ropes and tools locked away. Don't give them the tools they need to enter your home, make it as hard as possible - if it's not easy, they'll likely move on.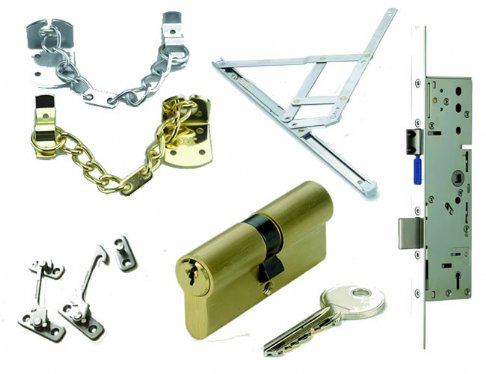 How Can We Help?
World Group are able to assess the security of your products and advise of any alternatives available to improve security.
If you're not an existing World Group customer, we don't mind. It's important to us that our communities are safe and secure. If you are an existing World Group customer, you should be boxed off nicely on the windows and doors.
If the installation of your windows and doors was carried out more than 3 years ago, it may still be worth getting in touch to see if there are any new products available to help improve the security of your home.
Call us on 01228 599777 and ask for your free security report!