Colour and Finishing Options
Have you ever wondered what a street would be like with blue, red, green, black and grey windows? Probably not. We did, however, so to compliment our standard white and woodgrain coloured profiles, we now offer a range of SEVENTEEN colour options. With our mix and match system, we're able to use any colour combination you can imagine! For us, the important thing is making sure that all the options are as elegant, unique and offering the same great value for money as the rest of our product range.
Whether you're looking for blue windows on the outside, with green on the inside of the house, or black internal and external designs, we can accomodate your requirements.

Whatsmore, we've just released an astonishing TWENTY SIX additional colour finishes for our composite door range. You can find all these by clicking here. If none of them are to your taste, supply us with a RAL colour and we'll get the door coloured to suit.
Have a look at the colour ranger by clicking the image in the blue box to the right. For more information, or to see some samples, why not give us a call on 01228 599777 or get in touch using the online contact form below.
Coloured Windows and Doors
Over the last 18 months, we have seen an incredible increase in popularity of 'special' coloured Windows and Doors. This is partially driven by the success of the Composite Doors which come in a wide range of colours, but more recently it has been through the customer demand for something better suited to their homes and requirments.
We are now able to offer a range of 14 coloured PVC Windows and Doors that can be colour matched to Composite Doors, Garage Doors and our range of GRP Composite Fencing and Decking.
Some of the colours available:

Black

Chartwell Green

Slate Grey

Cream

Irish Oak

Red

Green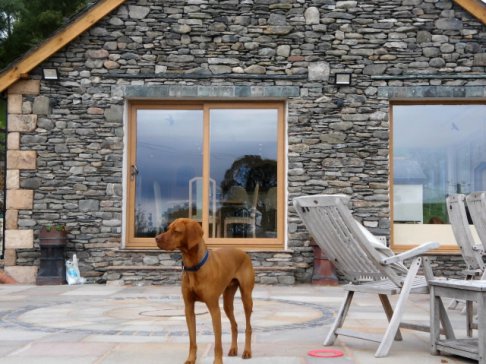 Wood Effect Windows and Doors
Our range of 'woodgrain foiled' Window and Doors. In essence, this is a high quality, durable foil adhesed to the raw PVC base at point of manufacture. This is not a new practice and has been around for 20 years or so, however, the modern foils are much more hard wearing and of much higher quality.
The modern twist comes in the form of new colours. We now offer 5 'wood effect' colours for Windows and Doors to enhance the appearance of your home and to make the most of the surroundings.
Speak to us about our full range of coloured foils on 01228 599777 or use our online contact form to book a home or showroom sales appointment.